Download our Foreign Rights Guide 2022-23
Looking for a great story?
From youth readers to horror and manga, we have Latin American comics for licensing that will surprise you!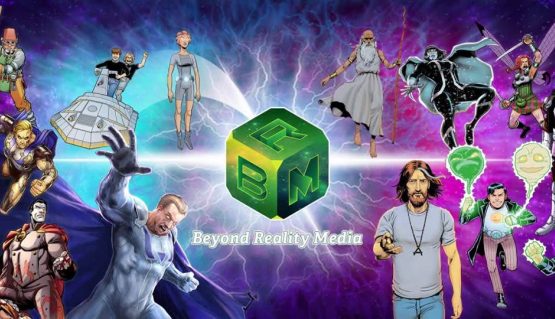 We represent the catalogue of Beyond Reality Media, the biggest producer of comics from New Zealand. Check out these amazing stories!
Portfolio highlights
Download our Foreign Rights Guide for a complete preview of all our graphic novels.
Pinochet's Ghosts – Francisco Ortega & Félix Vega
In February 2000, Augusto Pinochet served 17 months in detention in London. The Spanish judge Baltasar Garzón seems to have achieved the impossible, bringing the former dictator to justice and initiating a trial against him for crimes of genocide, terrorism and repeated violations of human rights. Locked up in the English capital, Pinochet's memories and fears become specters that will soon lead him back to Chile, to his death and beyond.
Color. 136 pages.
Sold in Chile, Brazil, Spain.
Clandestino – Amancay Nahuelpan
The country of Tairona became a no man's land after the military coup.Guerrillas were formed across the lands, and rebels unified against the dictator to resist the regime. The hopes of many lay on Clandestino, who barely escaped from the military attacks as a child, and was then recruited by the rebel forces, to later lead the revolution against the dictator.
Color. 205 pages.
Sold in Chile, USA, Spain.
Inmuno, Corpus under siege! – Erlij, Márquez, Docolomansky and Kóte Carvajal
Four children are born in Osseum: They belong to four different families of the Corpus Army, and soon are separated to begin their training, promising that one day they will meet again. Soon after, a gathering of bacteries awaits in the outskirts, for the opportunity to enter and invade Corpus, their beloved land. The fight against the invaders results in a victory for Corpus, but not for long. An enemy lurks in the shadows: The Aereus.
Color. 131 pages.
Sold in Chile.
The Last Detective Redemption – Geraldo Borges & Claudio Alvarez
After 20 years, detective Joe Santos is forced to return to investigate a series of crimes in «New Amazonia». A strange drug offers one week of physical beauty and pleasure… and a painful death, and it seems that no other than Santos can solve the mystery. Will Joe solve this time the case that ended his career, crushed his body and caused the death of his partner?
An action packed one-shot comic,
Color. 54 pages.
Sold in France, Italy, Brazil, Denmark, India, Japan, Czech Republic, Denmark, Kuwait and Chile.
Sacred Bullets – Danny Jiménez & Claudio Alvarez
Priest Pedro Armas leads a personal crusade against the drug dealers who poison his neighborhood, while the police wants him for the death of a corrupt vicar. Two detectives and the sordid countenance of drugs will face along his path of blessed bullets…
In this battle everyone will have to decide what they are willing to sacrifice to stay out of hell.
A thrilling one-shot comic, full of action and drama.
B/W. 40 pages.
Sold in USA, Italy, Denmark and Chile
The Moving Fortress / Underworld – Enrique Alcatena & Ricardo Barreiro
In a strange land, Bass De Avregaut is taken prisoner by warlord Emir Basileo, the ruler of a city-sized mobile fortress. Waging a war against a rival lord in an attempt to rescue his abducted bride, Basileo will discover the value of Bass in any battle. Bass will earn the respect, and admiration of Emir and his crew. In his second adventure, Underworld, Bass will face the deadly game of a condemned civilization. Two complete Latin American comic classics.
B/W. 128 pages.
Sold in Brazil, Chile & Argentina
MORTIS – Miguel Ferrada & Italo Ahumada
An island in the middle of the ocean that hides an ancient arcanum.
A doctor in crisis who plunges into the mysteries of. death.
An occult brotherhood that prepares the return of its messiah.
All paths connect at the center of a complex surgical procedure to the very fabric of reality.
Based on a beloved classic Chilean horror character created in the 60s, MORTIS is one of the most praised comics made in Chile.
B/W. 144 pages.
Sold in USA, Italy, Denmark and Chile.
CORVAX STIGMATA – Paula Andrade
A cursed warlock begins a strange journey to search for the ingredients of a spell of uncertain outcome.
On his way, he must face hidden creatures in dark and forgotten places. These will force him to confront his worst fear: the unforgivable crime that haunts him.
A gothic fantasy story with manga aesthetics, fueled by dark feelings, which surprises with its symbolic capacity and knows how to save a silver lining for hope. 
B/W. 164 pages.
Sold in Argentina, Italy, France and Brazil.
Mocha Dick – Francisco Ortega & Gonzalo Martínez
After turning 15, Caleb Hienam, son of a whaling businessman, goes on his first journey to learn the family business. In the ship he meets Aliro Leftraru, a descendant of the Mapuche people. When the ship where they work bumps into a whaling ship filled with survivors from a monstrous white whale attack, Caleb and Aliro will discover the story of Mocha and will develop a plan to prevent the indiscriminate hunting of whales on the Pacific Ocean. 
Color. 160 pages.
Sold in France, Argentina, Brazil, Chile, Colombia, Mexico, Kuwait and Spain.
The Time Travelling Tourist – William Geradts, Richard Fairgray and Gonzalo Martínez
Beethoven Jones travels time and space doing exactly what every tourist does – taking pictures
and acting like a dick. Everything changes when he meets Rebecca and tastes the best donuts in
history. It's never easy falling in love, especially when your first date involves visiting the Wild
West, Tutankhamen's tomb, and watching the death of Julius Caesar. From prehistory to the
present, this is a story of love, dinosaurs and donuts.
Color. 112 pages.
Sold in New Zealand and Kuwait.
The Inspiration Duncans – William Geradts, Richard Fairgray and Gonzalo Martínez
This is the story of Patrick's worst day (so far). This morning he got yelled by his boss, covered in an experimental laxative, electrified, and now he's seeing aliens that have attached themselves to the back
of everybody's necks. Now Patrick is the only thing standing between humanity and the apocalypse, and he's seen enough movies to do everything wrong. As evolution is reversed, Patrick, his (now caveman) best friend, and his (recently) super intelligent girlfriend must race to save the Earth.
Color. 84 pages.
Sold in New Zealand.
The Darwin Faeries – William Geradts, Richard Fairgray and Gonzalo Martínez
Survival of the fittest doesn't work unless there are a few accidents along the way. The Darwin Faeries is a lighthearted journey through disaster, theories, exploration, school, life, death and beyond in an adventure unlike any other, with a tale of how Darwin came to his concepts of survival of the fittest, not through hard study
and research, but by a chance encounter with a group of Scottish Pirate Faeries and the ongoing obsession of Violet of the Fay to seek his death.
Color. 112 pages.
Sold in New Zealand.
Holier than Thou – Mike Ragsdale & Pablo Arias
What would happen if Satan suddenly decided to change his evil ways? «Holier Than Thou» chronicles Lucifer's mid-life crisis as he sets out on a hilarious, devil-may-care quest to make amends for past wrongdoings…. and in the process, triggers Armageddon.
With a Monty Python sense of irreverent humor, Holier Than Thou is an epic philosophical tale written by Mike Ragsdale. This book features 192 pages of stunning full-color art by Pablo Arias.
Color. 192 pages.